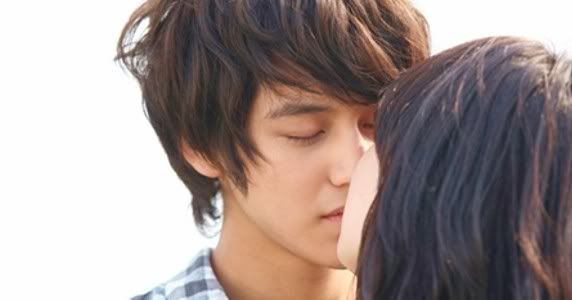 WARNING: FOR THE CRAZIER MORE EMOTIONALLY INVESTED FANS, YOU MAY NOT WANT TO FIND OUT MORE
Contribution by: sweetitude in Eye Candy @ allkpop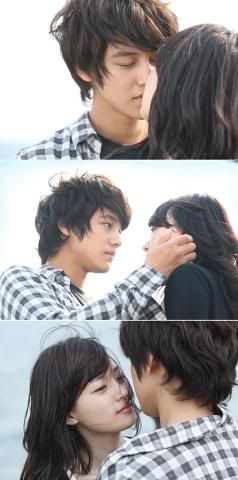 Rising star Kim Bum and actress Kim Byul are gaining attention for the adolescent romantic action movie Emergency (Bi Sang). Actor Kim Bum who quickly shot to fame following his role in Boys Over Flowers and his co-star Kim Byul revealed an emotion-filled kiss scene from their upcoming movie.

The movie tells the story of friendship, love, and pain in youth where Kim Bum and Kim Byul meet through their sad love story. In the film, Kim Bum portrays the character Shi Bum who for love aspires to be the best actor while Kim Byul plays Soo Kyung who among an unhappy family situation has a hurting yet pure soul.

The film started shooting last month and with the release of the kiss scene, the movie is being met with greater anticipation. The kiss scene was filmed in the sandy white beaches of Busan and is the first moment where Shi Bum and Soo Kyung affirm their feelings for each other. To portray their pure but ardent love, even during their break time, they discussed the technicalities of the scene, trying to perfect it.

Having shown his charisma through East of Eden and Boys Over Flowers, Kim Bum plans to continue his role as an adolescent icon as his character is one who is willing to throw away everything for the sake of one girl. Emergency plans to release later this year and is expecting a Beat (Jung Woo Sung's film from the 90s)-like syndrome. At least this time he doesn't have to worry about getting death threats from So Hee's fans. Although I can't say the same for Kim Byul.
________________________________________________________
coolsmurf in Drama @ allkpop
After completing all his movie projects on hand, Kim Bum will next be embarking on a new drama project together with Son Dambi and Joo Jin Mo for SBS Dream. It was announced today that the new Mon-Tue drama will see Kim Bum becoming a tough guy again who practises mixed martial arts. He will thus shed his gentle, pretty boy image that was forged in Boys Before Flowers and revert back to his charismatic, rebellious image shown in East of Eden.

Dream is a sports drama about Kim Bum who turns good after being in a youth correctional facility. Joo Jin Mo a sports agent who assists Kim Bum in becoming a top mixed martial arts exponent. Son Dambi, more known for her singing and whose Hollywood movie went up in smoke, will make her acting debut in this drama instead. Dambi will be acting as the daughter of a mixed martial arts academy director. 

Filming for Dream will commence soon, with the broadcast set for September.
Haha I hear the sound of sharpening knives and parangs. Kim Byul you better run girl! ^^ Chill out people drama is just drama. I'm sure Kim Byul would also rather not stick her neck out and risk shortening her life span by doing this for fun XD
Shared by: fanaholic@wordpress
taqiah~